Nonprofits that had to cancel their fundraising events in '20 and '21 suffered financially, but those that adapted their fundraisers into virtual and now hybrid events were amazed by how much money they have raised. 
During the past two years, virtual events have proved that organizations are 10% more likely to have raised at or above the nonprofit's fundraising goals, proving that, like it or not, this evolution of virtual fundraising is here to stay.
Virtual galas succeed because they offer a way to reach large numbers of donors and supporters at a minimal cost. With the aid of an effective online fundraising platform, virtual fundraising events enable hundreds or even thousands of people to attend an online gala from anywhere in the world. What would have been an impossibly large event to host in-person can now be accomplished by even small nonprofits in a virtual space, enabling nonprofits to promote their mission to a larger audience.
Virtual events are quite popular because they generally have smaller budgets than traditional in-person events.
Even so, virtual events are not simply Zoom meetings, even when the destination platform is Zoom –  they do come with unique expenses that you'll have to work out in the planning stage. They will require certain technological and production expenses for your online audience, some of those expenses include an online fundraising platform, a technical event producer with a production team, and support staff.
            Three Success Stories
Below I want to give you three examples of a mix of well-run virtual and hybrid events that raised beyond their initial goals and had a high ROI for the organizations involved because I know that valuable information in regards to virtual and hybrid events in the nonprofit space is tough to get a hold of and many event org and planners need more clarity on this topic to make better-informed decisions for their events.
             1. 100% Virtual Fundraising Event
Now that we've been gathering in person again in pre-covid numbers in some cases (and some locations), you're probably wondering, why would any organization host a fully virtual fundraising event? 
The answer to that question goes back to "WHY" have an event in the first place and if you are going to have an event, what kind of event do you need to have to engage your audience and encourage them to donate? Depending on your audience, the activities your audience wants to participate in — the expenses associated with them, and the nature of your nonprofit organization, the answer will vary.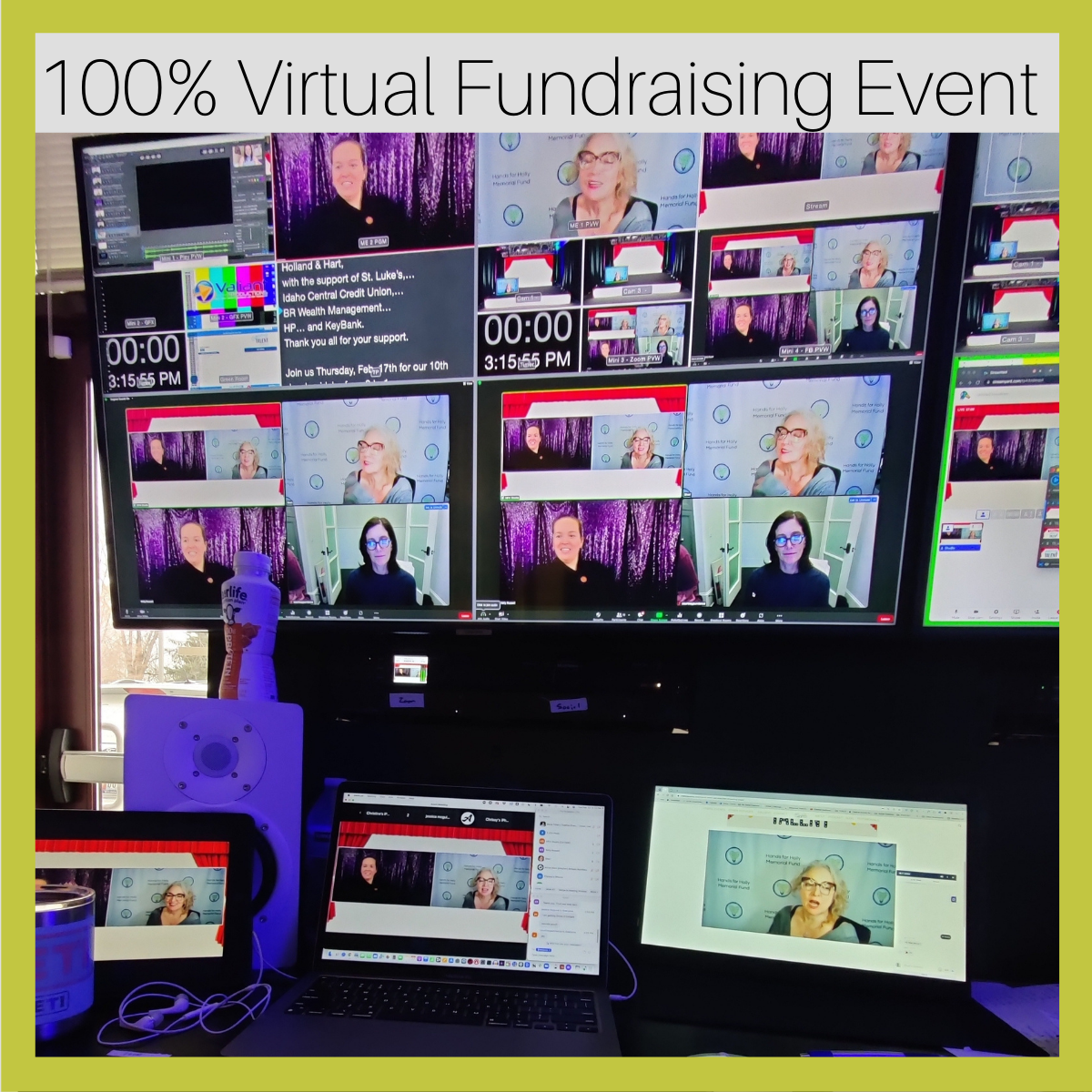 In this example, Hands For Holly Memorial Fund hosted their 2021, and 2022 "Kids with Cancer got Talent" fundraiser virtually establishing an online audience & reach beyond what their 2020 and prior years' in-person events were able to do. 
2021 goal was 60K, raised over 75K 

2022 goal was 125K, raised close to 130K
Production planning timeline: approx 3 months, the last 1.5 mo when most content creation & ROS happened. Date saved: 6 months in advanced
Why was this model effective for this organization?
The main format of the event has a game show format 

The auctioneer is extremely proficient with virtual events (Artisan Auctions)

The event relies heavily on content (over 32 video files) 

The event has established an online audience that is there to watch the contestants and partake in the voting of the winners 

High-profile judges (Shana Fox, Scott DeFalco, Glenn Scarpelli, etc) used their influence to promote it across their channels.
2023 plans – Stay virtual with a few inclusive in-person gatherings of VIP watch parties to continue to fundraiser and support families fighting cancer.
If this example has not made it clear yet, it's important to highlight that virtual fundraisers aren't going away. While we've already been experiencing a shift toward hybrid fundraisers, the convenience of virtual galas — along with the way people have become accustomed to online gatherings in 2020, 21 — has made virtual fundraising events a viable option for many nonprofits, and for this reason, your nonprofit should be prepared to adjust your fundraiser to a virtual or hybrid option to increase its accessibility and profitability.
In their own words: "We hired Anca Trifan w/ Tree-Fan Events two years in a row to run the technical production of the Hands for Holly's signature fundraiser, Kids with Cancer Got Talent. After our first year working with Anca, we had to hire her again as her execution was flawless. She has incredible attention to detail and pours herself into the event to ensure a perfect outcome. Anca is easy to work with, efficient, and she knows exactly what she is doing. The biggest compliment I can give someone who works in this area of the business is that they are professional. Anca is the utmost professional and she is someone who represents what she does in the best way possible. I highly recommend her to anyone who wants to produce a quality event and I will certainly hire her again." – Chris Wade, Hands for Holly Development Director
            2. In-Studio Virtual with an In-Person select gathering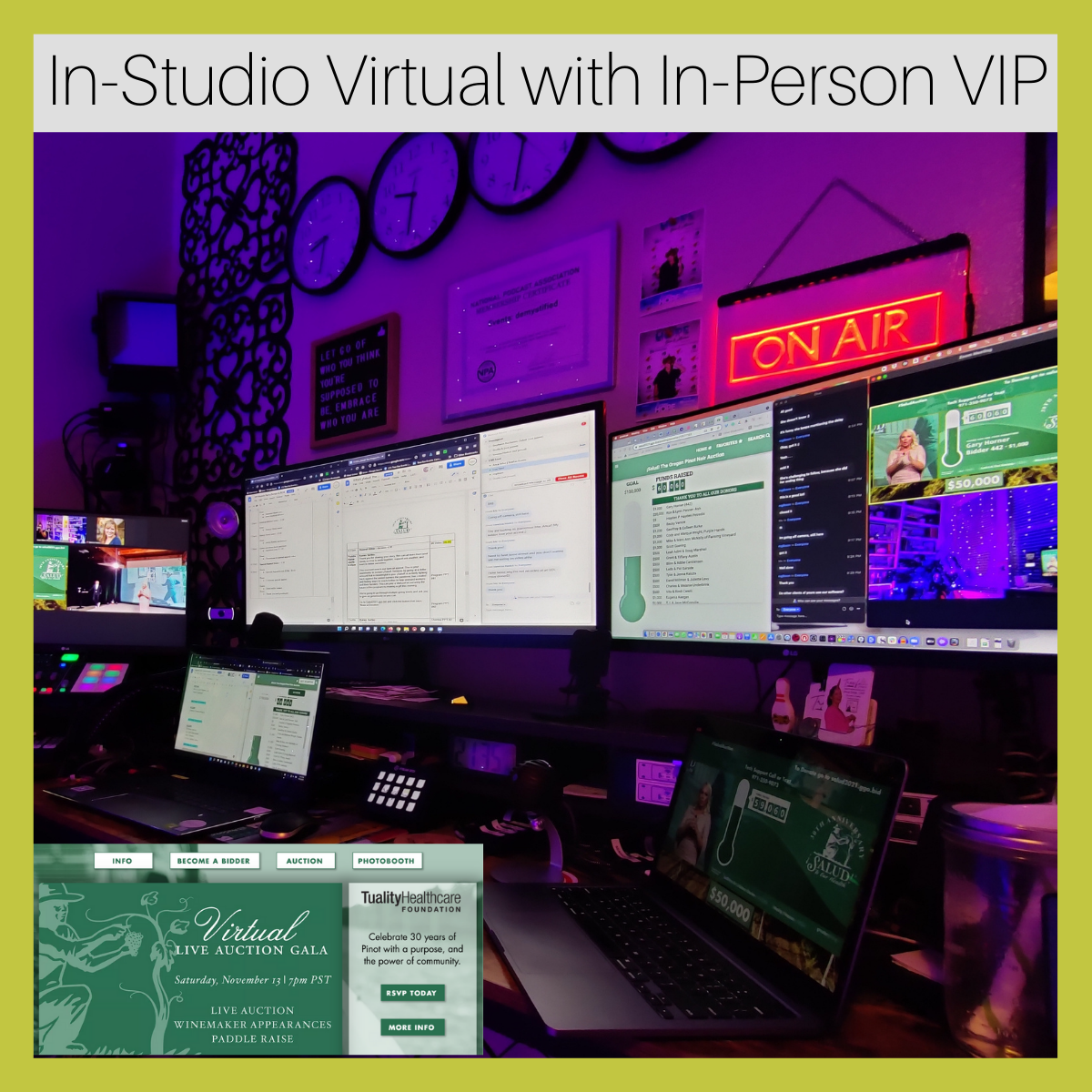 Tuality Healthcare Foundation is the supporter of the ¡Salud! program, which was created by a group of Oregon winery owners and Tuality Healthcare physicians to address the barriers to health care faced by seasonal workers. Their in-person event is something else, it spans over 2 days and several venues and so transitioning their 2020 " ¡Salud! The Oregon Pinot Noir Auction" fundraiser virtually was a total leap of faith, yet they have raised incredible amounts of $$$ in the span of one week.
2021 event was an In-studio virtual with an Emcee and Live Auctioneer auctioneering several live auctions packages and a live paddle raise,  and an in-person VIP gathering of their top donors with an in-person auctioneer on-site for a short and sweet very selective live auction 

2021 goal $100K, raised over 205K
Production planning timeline: 3 months. Date saved: 5 months in advanced
Why was this model effective for this organization?
Their host is a well-known Podcaster of the Winemaker Conversations Show, and very proficient with digital events 

The organization did a phenomenal job marketing the virtual event 

The virtual event timeline was tight and focused, highlighting many of the wineries involved with excellent produced content, and the special appeal video storytelling was on point 

The production and #behindthescenes team was top notch 

Their audience, the winemakers are incredibly invested in their workers' healthcare
2023 plans – Go back to their 2-day in-person event format with different wineries hosting each day as a way to highlight their sponsors & stakeholders.
 Don't forget about your online audience!  Sure, your online audience is meeting in a virtual environment, but that doesn't mean they can't be made to feel comfortable. The simpler it is for them to interact online (and with the in-person audience), the better the experience will be for them and the more money they will be agreeable to donate towards your mission.
In their own words: "I wanted to thank you and your team working behind the scenes on this event – the evening event was a huge success and we are so glad we partnered with you for something so special and personal. So thank you again!" – Stephanie Buchanan, ¡Salud! Manager of Philanthropy
           3. Hybrid Fundraising Events
As both event planners and audiences become more comfortable and accustomed to attending online events, the feasibility of incorporating online fundraising into traditional in-person fundraising is more possible now than ever. Hybrid fundraising events give nonprofits a chance to improve digital fundraising models and explore opportunities for post-pandemic fundraising.
But what is a hybrid fundraiser?  At its most basic, a hybrid gala is a fundraiser that offers an in-person and online experience of the same event. Now, I didn't say it has to happen at the same time.  
This can mean several things:
offering your supporters an option to attend a portion of your in-person via a live stream,
hosting an auction where some of the participants place their bids in person while others bid on items from home using mobile apps

from their smartphones at different times from each other,

having a few strategic touchpoints where the two audiences meet and partake in the same experience

at the same time. 
That being said, many nonprofits are still experiencing a big learning curve as they discover the most effective way to blend online and in-person experiences.  Our main mission here at Tree-Fan Events is to ask the right questions so we can identify the strategy that will help different nonprofit organizations consider hosting hybrid events that fit the unique needs of their donors and supporters. 
Creating an optimal hybrid fundraiser for your nonprofit will ensure that it is not only profitable but also secures greater support (and regular contributions) from your donors, supporters and volunteers. 
When planning a hybrid fundraising event, it's important to remember that hybrid galas are meant to accommodate supporters who prefer to attend fundraisers in person and those who prefer to participate online for accessibility reasons.  Done right, your hybrid event will not only widen your network of donors and supporters but also promote your nonprofit as a very inclusive organization.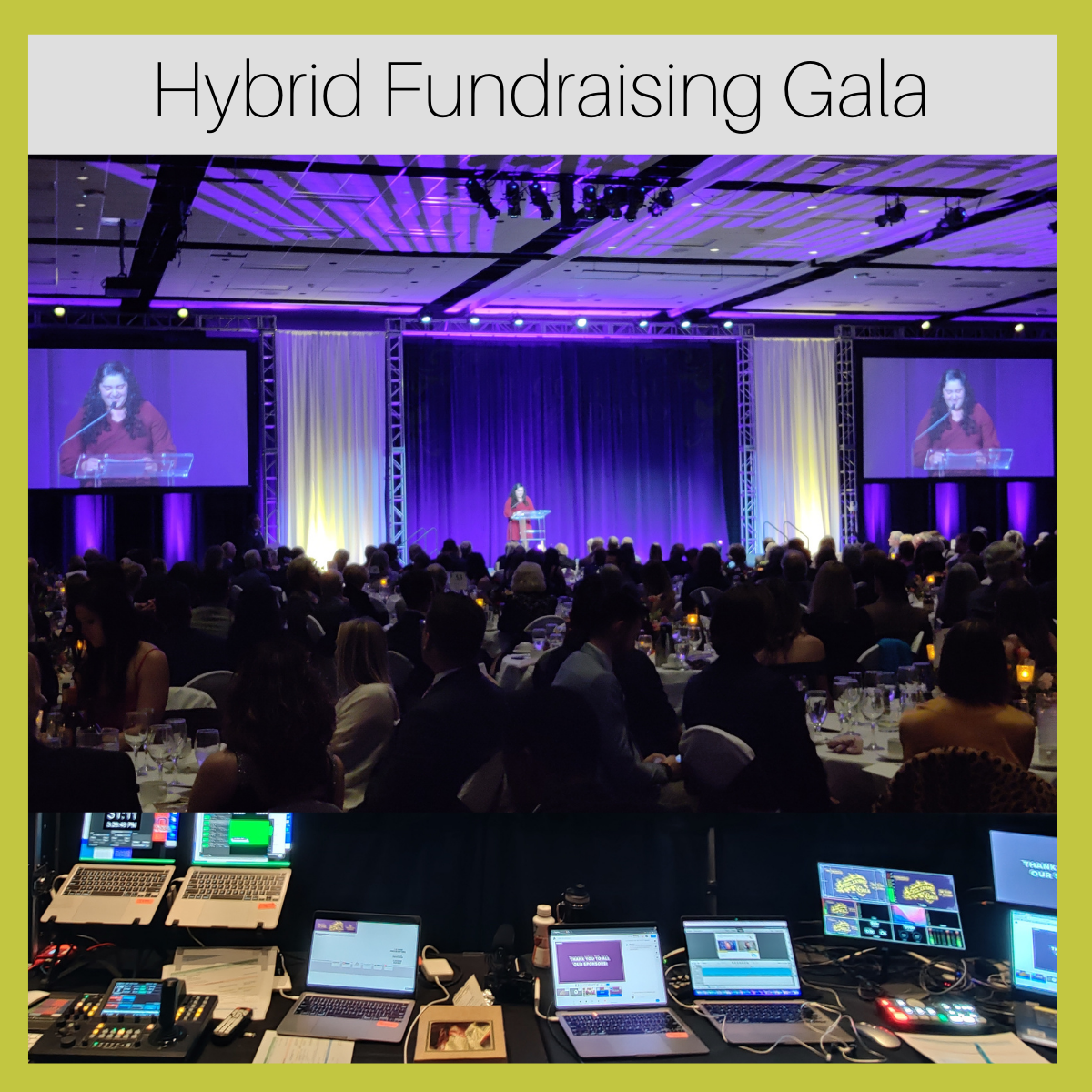 In the last example here, The College of Idaho hosted its very first virtual fundraiser in 2021 from on-location, the Cruzen-Murray Library, which supports the processes of discovery, teaching, and learning at the College of Idaho.
2021 goal $500, and raised over $550K 

The 2022 gala was planned as a hybrid fundraiser with 650 in-person and a virtual asynchronous live-stream 

2022 goal $575K, raised over 811K
Production planning timeline: 6 months. Date saved: 7 months in advanced
Why was this model effective for this organization?
Pre-event strategy for p

re-event pledges 

The asynchronous timeline & content 

The pre-event and day-of production
2023 plans  – Build on the hybrid fundraising model
In their own words: "Anca Trifan and Tree-Fan Events is the BEST partner to work with for all of your fundraising and event needs. Anca and her team are the best in the business. We raised more money than ever before at our recent gala and Tree-Fan Events played a huge part in the success of the evening. Gala partners for life! Thank you!" – Deidre Friedli, College of Idaho Director of External Relations & Events
Takeaways
With many nonprofits now aware that people from all over the world can donate and participate in virtual fundraisers — and that these virtual galas can be hosted for less than a traditional in-person fundraising event — it's easy to see why many will want to maintain a virtual component in their fundraisers. 
Hybrid events are successful since they allow different groups of people to attend your event and support your nonprofit in the way most convenient for them, while also allowing for more inclusive in-person gatherings (improving social interactions and lowering costs) while also enabling hundreds of additional supporters to attend virtually (increasing brand-awareness and financial support). 
In our experience having produced over 100 virtual and hybrid events, many nonprofit organizations have enjoyed huge benefits by hosting such events that were optimized to their unique needs. 
The fact is, 
practically any fundraising event can be adapted into a hybrid setting

where in-person and online audiences interact with each other seamlessly,
offering a virtual attendance option makes your event more convenient for supporters who can't make the trip to your in-person venue due to travel restrictions or personal reasons,
virtual fundraising events need excellent pictures and sound in their live streaming to participate in an online gala,
hybrid fundraising requires its own unique set of support staff, online tools, and event planning to offer a good return on investment for your efforts,
hybrid audiences need live streaming to be well-integrated into the in-person event so both online and in-person audiences can interact in ways that they have uniques experiences of the same event.
Hosting a virtual or hybrid fundraising event requires plenty of planning, and you'll want to make sure to give your fundraising team plenty of time to establish their goals, plan activities, and market your event.
The biggest challenge in hosting a hybrid event is to get your in-person and online experiences to work together.
This is why it can be vital to hire a technical event producer* and a production team that specializes in hybrid events.
*What is a Technical Event Producer?
A: This is someone with extensive experience and knowledge in the areas of in-person, virtual, and hybrid technical event productions, event design, event management, and event planning. This person will walk with you throughout the entire planning process and is the best event partner that you could invest in for the success of your upcoming event, may that be in-person, virtual, or hybrid!  Our goal is to use our 20 years of professional expertise in event planning and productions of sound, audio-visual, video, lighting,  live-streaming, and other innovative event technologies to provide you with technical and creative direction, consultation, planning,  management, and support to deliver flawless and memorable event experiences!
The best way for us to learn how we can best assist you and your event is by having a conversation. Initial consultations are free and take less than 20 min.