Event budgets play a crucial role in determining the success of any event and managing them can be a complex task. Striking the right balance between delivering a memorable experience and staying within financial constraints requires careful consideration of each line item. Event planners must navigate an array of cost factors, such as venue fees, catering, AV production costs, technology, marketing, and more, all while staying mindful of the potential for unforeseen expenses. Successfully managing an event budget demands strategic planning, flexibility, and a keen understanding of the event's goals and priorities.
——————–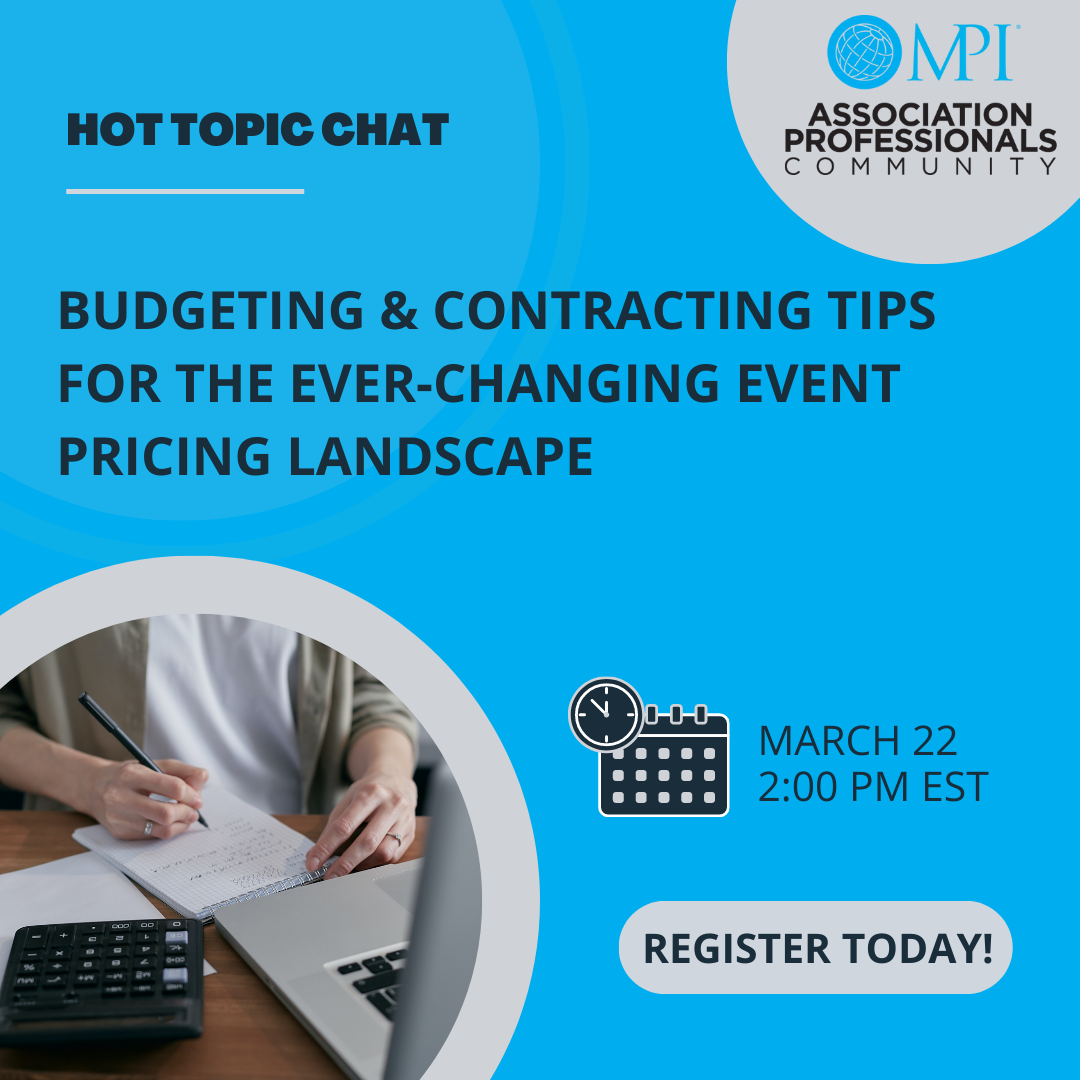 March 22nd, 2023 Hot Topic Event Panelists
Moderator:  Lindsay Plath, Education & Events Manager
The expert panel discussion aims to delve into key cost-saving strategies for event planners, covering topics such as identifying areas to reduce expenses, prioritizing budget allocations, and securing favorable deals with vendors. The panelists will tackle the unique challenges of contract negotiation in today's ever-changing landscape, which is marked by increased demand for specific event services, limited venue availability, and inflated vendor fees. These experts will provide insights on navigating this complex environment, highlighting best practices to ensure successful negotiations. By the end of the hour-long session, attendees will have gained a comprehensive understanding of cost management tactics and obtained essential tools to help them plan and execute successful events, even amidst rising costs and market challenges. Save your spot.
---
If you've missed our LIVE panel discussion, don't worry, we've got below the main tips and strategies that were provided.
The COVID-19 pandemic has impacted the event industry in many ways, and one of the biggest challenges that event professionals face is managing rising costs while still delivering high-quality events that meet the expectations of their clients. In the current landscape of events, negotiating favorable terms with vendors and suppliers while managing rising costs is more challenging than ever before. With the ever-increasing pricing landscape of events, event professionals need to be proactive in negotiating contracts, managing budgets, and ensuring that their events are still creative and engaging, even with budgetary constraints.
Negotiating contracts with vendors and suppliers is a critical part of budget management, but it can be challenging in the current pricing landscape.
To help event professionals navigate this landscape, we gathered insights from our panel of industry experts:
Moderator:  Lindsay Plath, Education & Events Manager
Each one of them provided advice and strategies for negotiating contracts, managing budgets, and delivering high-quality events that meet the expectations of clients. Here are some of their tips and strategies:
Question #1: What do you believe are the most effective strategies for event professionals to negotiate favorable terms with vendors and suppliers while managing rising costs?
Knowing your value is key to negotiating favorable terms with vendors and suppliers. Understanding how the hotel evaluates your group gives you negotiating leverage. Brittney, an event planning expert, suggests knowing historical pickups, room revenue, F&B spend, AV spend, and other spin categories to leverage your above-and-beyond spending. By connecting with chefs and creating custom menus, you can get creative and create an impressive event while helping your budget. Kellie Ann, a Hilton executive, suggests being transparent about details and working with venues as partners to create an experience that fits into their margins. Peter, a chef, suggests focusing on impact instead of quantity and using local, creative items to create an interesting and cost-effective menu.
Question #2: Given the challenges of negotiating contracts in the current landscape, what advice would you give to event professionals who are struggling to balance their budgets while still delivering high-quality events that meet the expectations of their clients?
To balance budgets while delivering high-quality events, event professionals should focus on repurposing items and working with CVBs for incentives. Brittney suggests using breakfast and dessert items for staff rooms and other functions. Sara, a Marriott representative, suggests presenting contract clauses upfront and asking for custom clauses, while Kellie Ann suggests encouraging planners to send specs early and stick to a more simplistic approach to help venues schedule staffing and save money when less service is involved.
Question #3: Given the ever-increasing pricing landscape of events, what advice do you have for event professionals to help them manage their catering budgets and ensure that their menus are still creative and engaging, even with budgetary constraints?
To manage catering budgets and ensure creative and engaging menus, Peter suggests focusing on local, creative items and working with the chef on a pared-down menu instead of a large quantity. Kellie Ann suggests being transparent about the cost of organic and limited products and trusting the chef to help meet the budget while putting the best product forward.
Question #4: What are some things that should be included in a venue contract and any helpful guidelines or examples that you could give here of contracts that protect and serve the organizations that sign them?
Sara suggests presenting contract clauses upfront, customizing clauses as needed, and including a rebooking clause and credit. Asking for outside room block reviews could help with attrition, and involving national sales reps who know your history is also helpful.
Question #5: Are there any additional areas of potential financial exposure in hotel contracts that you would advise clients to look at before signing to reduce or eliminate risks?
Brittney emphasized the importance of reviewing hotel fees and surcharges, including urban city fees, historical preservation fees, and unique taxes. While venues may not be able to negotiate taxes, it's important to ensure that everything is included in the contract to avoid additional fees or surcharges after it has been signed. For example, a resort fee cannot increase from $35 to $55 after signing. It's also important to look at early departure fees and ensure that the hotel credits those fees for attrition. Additionally, hotels are now charging for audits, so it's worth negotiating to have those included complimentary. Finally, make sure that you're not being charged for services that you're not using, such as bellman or maid service.
Kellie Ann highlighted the importance of a two-way street when it comes to low-rate clauses. If you're only using 100 rooms in an 1800-room hotel, it's unlikely that the hotel will honor that low rate clause. However, if you're operating in a significant portion of the building, you're more likely to get that clause. Lindsey emphasized the importance of knowing your group and not throwing concessions on the contract that won't matter to your group.

Question #6: Given the importance of AV production to the overall success of an event, how can event professionals negotiate favorable terms with AV vendors and suppliers, while still staying within budget and ensuring that they are providing a high-quality experience for attendees?
Anca emphasized the importance of trust, transparency, and open communication when working with AV vendors. Don't leave AV on the last check box on your to-do list. Bringing AV into the conversation earlier on gives you access to better pricing, higher skilled labor, etc. because AV has more time. Bundling AV services and reaching out to the venue to see what equipment is already available can also help reduce costs. Additionally, being transparent with your budget upfront can help the AV company build something within your budget. It's also important to do your research and compare apples to apples when considering in-house AV versus bringing your own.
Kellie Ann suggested sharing sets with other events to save costs. It's also important to reconsider 24-hour holds and give flexibility if there is no turn time. Brittney asked Anca about organization-wide AV agreements, and Anca explained that it's important to look into local options that are cost-effective without sacrificing quality.
Question from the audience: Any suggestions for a solution for a hotel that you continue to book repeat business at due to location proximity to client HQ – but the hotel staff, over and over lets us down on both communication and onsite execution?
Kellie Ann suggested booking somewhere else to give the hotel a wake-up call. Otherwise, writing service guarantees into contracts can help ensure better communication and onsite execution. Brittney recommended including language in contracts that spell out service ratios and specifics.
Question #7: What is one piece of advice you have for event professionals seeking to help their budgets and better their contract negotiation game with events moving forward post-pandemic?
As event professionals navigate the post-pandemic pricing landscape, our experts offer several pieces of advice to help them better manage their budgets and negotiate favorable terms.
Brittney emphasizes the importance of being forward-thinking about future programs and negotiating to protect yourself in any scenario, as even a single word can make a big difference in your contract. She also offers a cost-saving tool that can help.
Peter recommends speaking with the chef early in the planning process and challenging them to create a menu that fits within your budget while still being creative and engaging.
Anca stresses the importance of tracking all expenses and income to help with budgeting, as well as considering hybrid events and working with the same partners repeatedly to build relationships and achieve better pricing.
Kellie Ann advises event professionals to be flexible and consider non-traditional concessions, as well as communicate openly with their vendors and suppliers for help.
Sara recommends finding out who your reps are at every hotel chain and asking questions to negotiate better terms, as even small programs can benefit from representation.

In conclusion, here are the main takeaways:
Know your value and negotiate based on your group's history and potential

Consider committing to long-term contracts to gain concessions and rebates

Keep an open line of communication with AV partners and prioritize needs over wants

Be transparent with venue partners and let them get creative with food and beverage to work within their margins

Have direct contact with the client from the beginning to tailor menus to fit the budget

Involve culinary leaders in the event planning process to make adjustments from the beginning and improve execution and service scores.
By following these tips, event professionals can better manage their budgets and negotiate contracts that protect their interests.
---
Did you know our agency contracts several global event planners and managers that can assist you in planning your next event?
If you or your organization is looking to plan an event on a medium to a larger scale, such as a corporate event, conference, trade show, and more our certified professional event planners and managers can assist with various aspects of event planning, including contract negotiations, budgeting, venue selection, logistics, catering, entertainment, and AV production services, helping to ensure that the event runs smoothly and successfully.
Learn more by scheduling a 20 min discovery call at your earliest convenience by following the link below.