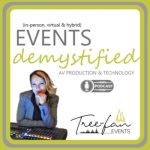 In this episode, I have the honor of interviewing live Anna Marie Aldinger, the president, and owner of IBL Events, one of
the largest producers of consumer trade shows
in Idaho. We will cover topics such as personal strategies to handle multiple projects at the same time,
tips to overcome event stress
, the type of return an exhibitor should expect from a trade show, how to create visually appealing booths
, marketing tactics to ensure success before and after exhibiting at a trade show and of course,
the growing concerns about the spread and impact of the COVID-19 virus
(aka coronavirus) and the type of precautions a meeting professionals should take, if and when
should they cancel their event
and the type of plan that should be in place not just for the organizers but also for venues, keeping attendee's health and safety on top of mind.
This episode was a lot of fun recording and I sure hope you will
tune in on any major podcasting platforms
as we will be exploring this new topic together!
---
For event and podcast updates, tips and tricks of the trades, find us on Social Media on these channels:
If you liked what you heard, please show us some love by subscribing to this podcast on Apple Podcasts, Google Podcasts, Spotify,
or whichever platform you use to listen to. By leaving a great review and hitting the 5 stars, you make this Podcast visible to other listeners with the same interests as you.  
Have a fantastic rest of your day!