As promised in my latest Podcast Episode, below I will showcase five (or more) free tools for virtual events broadcasting and live-streaming that I've been using for a little while and found useful. These tools are useful if you're an audience member joining a virtual event, but even more so, if you're a solo live streaming producer that is broadcasting events, with or without a studio assistance.
1. Virtual Test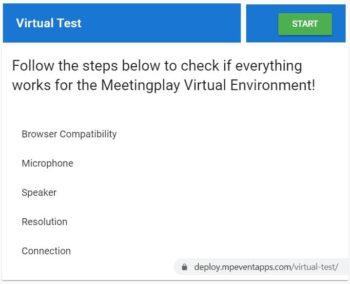 The first tool that I tend to use a lot is a virtual test link that I share with all of my virtual speakers and guests and have them take this test before going live for my events. This is a great tool to have in your toolbox especially if you haven't had the time nor the opportunity to tech check your virtual speakers on a 10-15 min individual call that would test their broadband connection, camera video resolution and sound quality, the lighting and the location of their surroundings as they're going to be joining you virtually to go live. While this test doesn't cover lighting and framing, it does a decent job with the other test components. During all my virtual tech checks I personally like to test for Camera, Audio, Lighting, Location and Speed (Internet) also abbreviated as CALLS and if you'd like to learn more about each one of those checks, follow this link.
2. Speed test
This second tool is so simple, it's silly, it's an internet speed test and it's a great indicator of how well your live will go, based on the data collected. If I need to get more specific with having to know exactly the type of upload speed I'm dealing with, I have my virtual speakers go either to fast.com or run an Ookla speed test. They're both comparable and equally accurate in my experience, although I must say, American upload speeds are generally much higher than say European ones so in so many ways you will end up bench-marking based on the geographical location of your virtual speakers. For my virtual taste, anything above 20 Mbps will do for someone calling in virtually. As far as for myself, it has to be over 50 to run one stream in 1080p without any packet loss.
3. Packet Loss
And talking about packet loss, last year during my September podcast episode recorded in some deep woods in Idaho, where I got attacked by chipmunks while recording – I'm good now, I got out alive – anyway, during that episode I covered an array of essential virtual event glossary to know when it comes to live-streaming. To recap really quick, packet loss happens when data packets traveling across a computer network fail to reach their destination. This term may refer to the loss of just one or several packets in a larger data transfer, and is usually caused by network congestion.
I won't bore you with the whole definition of how video packet loss gets measured typically, but just know that when it comes to streaming video, packet loss can end up having a negative impact on user experience because you're dropping frames and your video becomes choppy due to bit rate fluctuations. And usually packet loss happens due to network congestion, faulty or outdated hardware or even software bugs. So as a habit, before a live stream and in the midst of live-stream, I always like to test and check the health of my internet connection with a network diagnostics tool such as Pingify or by going to this URL:  https://packetlosstest.com/
If you're constantly dropping frames and encountering packet loss, you might want to take this up with your ISP, but that won't always fix your issue, and it'll certainly won't be a fast fix. Resetting your modem, router and network adapters might lower the rate temporarily, but eventually if you're getting a lossy Internet connection, you'll be right where you started, with high packet loss rates while streaming. So another tool I found, especially if you are, for some reason, needing to stream on a wireless network, this other tool is called Speedify and it's a next generation channel bonding mobile VPN service that allows you to combine multiple Internet connections at the same time into one super pipe for increased bandwidth and reliability, while lowering latency and minimizing packet loss when streaming. And Speedify can bond any combination of 2 or more Internet connections and will distribute the online traffic between them for optimal performance. This is not necessarily a free tool, but to start off,  they do offer the first 2GB of data usage per month free, which might be helpful to some.
4. Stagetimer.io and Time.is (two-tools-in-one)
Stagetimer.io is a free web-based countdown timer that was designed as a speaker timer for communication between speaker and organizer during stage presentations or live events. Multiple internet-connected devices can join the same room ID and display a synchronized countdown. You can share a timer and even send a message to your speakers and highlight that message on the screen. You can synchronize multiple screens so everyone sees the same timer and because the timer has a full screen mode it scales to whatever screen size you are using.
Time.is

Is a great tool for when you need to synchronize the exact time between multiple time zones. Time.is automatically displays the time in your time zone by using your IP address to detect your location. There isn't much to say about this, but when you need to press play at the very same time, this tool is excellent and a live-saver! Ok, maybe not live, but for sure streaming saver when streaming concurrent sessions into an app and you're using an assistant in a completely different location to help out.
5. Slack & Discord Apps (two-tools-in-one)
Slack is well known between teams when you want to communicate with your team. It's faster, better organized, and they say, more secure than email. What I like about it is that I create work spaces for different events I'm working on and within each workspace I would create channels based on the stakeholders involved and share relevant info on a need-to-know basis with anyone involved in the event.
Discord acts like a virtual comm and is the easiest way to talk over voice, video, and text. This tool is heavily used by gamers but for virtual events you can create topic based channels that can be an organized way to communicate with the right people during an event, especially during important urgent communications during virtual events. The different channels and @mentions make it much easier to keep information straight, also because of it's near-zero latency, ease of use, and video quality is an excellent choice for a range of other different projects.
Alright, this is it for today. Tune into our latest podcast if you'd rather listen and/or watch instead of reading this entire blog post.
Feel free to send us and share with us your favorite free tools that you find yourself using a lot when live-streaming. Sharing is caring.
Never believe that a few caring people can't change the world. For, indeed, that's all who ever have. – Margaret Mead