One of the most used phrases of 2021, if you haven't yet guessed it already has been this one:  The future is Hybrid.
It's a phrase I hear it over and over again during my Podcast interviews with fundraising specialists, technology suppliers, production partners, marketing gurus, basically anyone and everyone that's someone in the event industry. It's a phrase I've been saying myself since June of 2020 (seeing is believing), when most event professionals were just dipping their toes into virtual events, let alone considering Hybrid. All that to say and really, beg the question: what the [beep] is a Hybrid Event?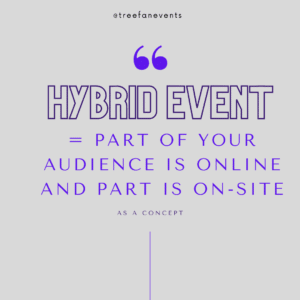 If we're looking at it from a pure concept, a Hybrid Event is relatively a simple idea: part of your audience is online and part is going to be onsite (aka IRL=in real life).
Simple enough, right? Well, not so fast. Because as we're learning more about this concept and how it can be implemented successfully from a strategy and production point of view, one of the most critical parts of a hybrid event becomes creating some sort of a unified experience for all attendees, both in-person and virtual.
The challenge here is a simple yet complicated one:  how do you replicate the same experience which, of course, is impossible to replicate without equal opportunities for both audiences to connect, consume and engage during this hybrid event.
The good news is, because of the seismic shift in technology that we've all experienced this past year which has led to a revolution in the event industry when it comes to data and metrics, hybrid is no longer just a concept or just a tactic, it's a strategy in which old event agendas get to be burned, thrown away or completely dismantled and reconstructed to create moments of engagements year-round through a series of reoccurring virtual events, leading to that unique, VIP-ish, flagship in-person event.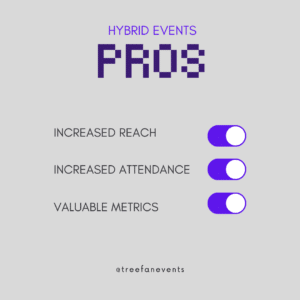 This hybrid strategy  is going to work for many organizations that, at a concept level at least, will be able to establish and reinforce their brand awareness, highlight value to attendees, sponsors and exhibitors, and continue to create meaningful connections throughout the year.
The challenges around going hybrid still remain though, and two of those challenges are at the top of the list:
how to practically engage two different groups of attendees, and
the fear that hybrid events will be pretty expensive to plan and run because as we get back to in-person events we will still have need of technology due to the high level playing field that technology has been able to provide, and that comes at a cost.
Those are some valid points and while a hybrid model requires a larger budget, the reality is based on all the data metrics reveled so far from all the virtual events produced last year, it is the only event model that has the potential to be truly profitable for an organization at this point in time.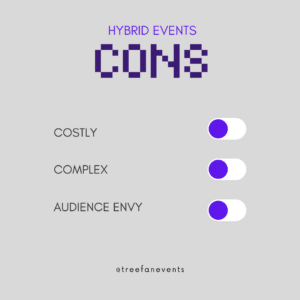 The flip-side to a hybrid model are these two options:
if you take your event fully to in-person, firstly, you won't be able to gather the same high number of attendees as in the past, at least for a while because not everyone will be comfortable about it and secondly, you lose on the global reach technology can provide you with.
if you stick to a 100% virtual event, you run the risk  of losing those already-vaccinated attendees who are more than eager to travel and gather in person.
So, if the hybrid event model encompasses the best of both worlds, how do you engage and design an event that is effective and relevant to your audience?
I bet this was the question you were asking all along and wanting to get some answers to this whole time. And we've got three sweet tips for you:
   1. Start by allocating enough time for pre-event production & logistics
You're not longer dealing with JUST the live-streaming component of your, your virtual speakers needing to get comfortable on camera (which we have some tips for here and here),  what type of AV production is needed to support the in-person event vs the virtual event production specifications required, what type of technology and online platform is suited best for your virtual audience, but now you've also got to consider in-house logistics of pre-event, on-site and post-event safety measures, as well as what type of experience each audience will have and is one audience more valuable than the other and how will they be treated accordingly if they're not. Lots to think about and consider, reason why having enough time (take whatever timing you think enough is and double it!) to do that is super important.
    2. Have dedicated moderators/emcees for in-person and your virtual audience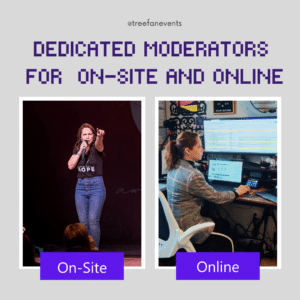 This goes hand in hand with the type of experience each audience will have and the question raised:  is one audience more valuable than the other and how will they be treated accordingly if they're not different but equally valued. To provide the online audience with a voice, you need to provide them with a dedicated moderator/emcee that can engage with them continuously during the event and make them feel valued and not like they're some second hand citizens for not wanting to or being able to join in real like. And to do that, also consider the next point down.
   3. Deliver exclusive content to your virtual audience
Obviously wanting to meet in-person is the ideal scenario and obviously at first not everyone will feel comfortable to do that or be capable (insert a tiny million reasons) to do that at first. To join your event virtually (either free or at a ticket-price) should have a good incentive and usually that incentive takes the shape of well-produced content that is exclusive for this online audience. We can't give you the topic because that will be very much unique to your organization, but we can give you the how-to tips and skills on creating and delivering great content to your audience.
Hopefully these three tips will get your gears turning to come up with new ideas and a unique strategy for your event so that your hybrid event creates and delivers the kind of  opportunity that bridges between online and on-site so people joining from home and people who've traveled to your event experience the same content, get to meet each other and become part of the same community.
For additional tips, you will want to tune into our newest "Events: demystified" Podcast episode with Will Curran (Endless Events) during which we get to demystify and discuss:
a couple of brand new hybrid event models,
the difference in mindset around Hybrid 1.0 vs Hybrid 2.0
how can you design a Hybrid 2.0 experience for your virtual and in-person audience
the difference between FOMO and JOMO in digital community models, and
how crisis can be turned onto its head as an opportunity for growth.
Go now, live it up and plan some hybrid events!
And if you're not sure how to tackle all that technology and production mumbo-jumbo, you know where to find me!