As an industry we're going again through a series of changes, pivots and cancellations, and it affects our clients, organizations, venues, planners and suppliers. Many of the conversations that were had last fall planning for this winter and spring event season still ring very loud in my ears, as many clients were adamant and pushing to go 100% in-person with their events without the contingency of having virtual as an option on the table.
The imaginary crystal ball we were trying to read gave us a wrong impression of what the spring of events might look like.
To be prepared for whatever might come,  ✨ we must stay prepared✨
What are three simple ways organizations can stay prepared in the light of all the new health and safety concerning developments?
1. Keep virtual as a viable option on the table
The data collected over the last two years is not wrong, as much as you might dislike the idea of going virtual, AGAIN, if you just get over the emotion part, your data will paint a different picture: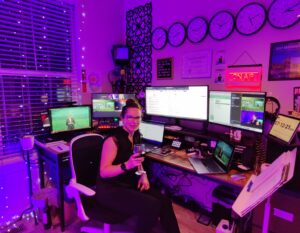 – you've had a larger reach than ever before,
– you've impacted post event more attendees than ever before,
– your brand got distributed in more places than ever before, and
– if you had a fundraising CTA attached to your event, you did raise more money than ever before.
According to Lauren Dully-Clark, President and Principal Consultant at Raise Agent, a Portland-based consulting agency for the nonprofit sector,
"In the immediate month ahead we recommend a virtual event or if possible reschedule for spring for in-person/hybrid. Once we get through this surge, which seems like in the next couple weeks based on recent data, it looks like in-person/hybrid is the way to go through Spring. We are moving forward with our March-May clients in this format"
2. Stay in touch with your technical event planner, event production provider, event technology manager
Just because we've had a great conversation six months ago about a potential event we might do beginning of this year, doesn't place nor lock your event on the calendar.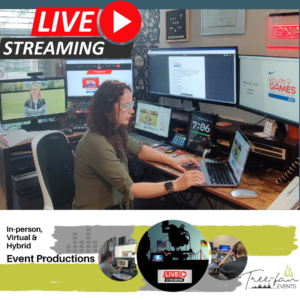 You stay prepared by:
– following up with a concrete date and time so it's locked in,
– getting the proposal received, reviewed and confirmed,
– checking in with your planner, provider and venue, keeping them in the loop with any changes that have the potential to affect the outcome and execution of the event.
According to Emee Pumarega, owner of EJP Events,
"We are super busy for this year. It is 2 weeks into 2022 and we have already hit several goals. Weddings are back and that is not an AV heavy business for us, but it is 25-40 % of our work. Every event is now feeling they HAVE to have hybrid at least in their back pocket. I am advising all clients it needs to be integrated into their plan from day one."
Keeping "hybrid in your back pocket" as a viable option for your event is a wise decision and we'd love to explore with you what that might look like for your event. Because of our extensive experience in the in-person event production world and adding to that the virtual and hybrid event technology expertise,  there's nothing much we haven't seen, and no event vision is out of reach. Our production team of partners are the best in the industry at turning whiteboard ideas into one-of-a-kind event experiences.
You just imagine your event bigger and better than ever and we will help you get there.
According to John D'Adamo, Head of Sales in USA for VenuIQ,
"We're looking to be virtual primarily for next few months, then hybrid / in-person June onward. CES just happened in-person and so did the PCMA Convening Leaders, so there are exceptions from a show perspective. But seems that many corporate events / meetings still be more virtual for a bit."
3. Get some fresh air, leave your silo
Staying prepared takes action and a proactive attitude.
Reach out to other event industry experts, start asking questions, be curious what others are doing, how are they overcoming the challenge you're dealing with,  challenges that in most cases are very much similar to what they're dealing with as well, in more cases than not, they might be at a place where they have a solution.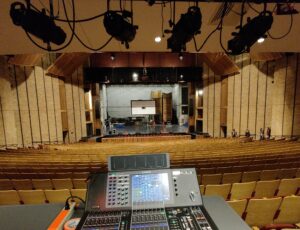 According to Nick Aldinger, CEO at IBL Events, one of the largest producers of consumer trade-shows in Idaho,
"It's going to be a great 2022. So far, almost all of our clients are moving forward with their in-person events, a few events cancelled due to Omicron but most are moving forward. Hybrid is still asked for quite a bit but the cost of a true hybrid event is often a deterrent. The larger companies seem to get it but the smaller companies are the ones who usually don't understand what truly goes into a hybrid/virtual event. That's where we see a sticker shock. With that being said, I have seen a big increase on recording events… especially in the educational space."
Regardless what this year might bring, staying prepared is being prepared.
And being prepared is what our team here at Tree-Fan Events does. We pride ourselves in staying on top of latest technology and using the production tools available to turning an ordinary event into an extraordinary experience. Every aspect of your event, from the staging and lighting down to the furniture in your huddle rooms, can be customized to your unique needs. From the finer details to the grand plan, our diverse team of experts deliver professional and quality service from start to finish.
If you're unclear about what a hybrid event requires as far as event AV production and technology is concerned, please reach out.
We're more than happy to answer your questions, so let's chat.