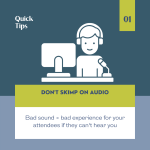 1️⃣ Don't skimp on good audio
Bad sound = bad experience for your attendees, especially if they can't hear you or your content clearly.
I mean sure, your phone can do a LOT of things, but if you're a speaker or someone that shows up LIVE a whole lot of times, invest into an actual mic for higher quality audio and camera for higher quality video. Here' s a good microphone idea, such as this one, a little pricey, sure, but you'll sound like a professional radio voice, and don't forget the wired headset to avoid the feedback loop (echo). We prefer wired because wireless, especially during a longer stream will tend to break up and lose connection.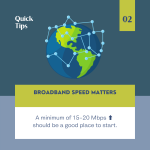 2️⃣ Broadband speed matters
Video streaming places a heavy load on your bandwidth. If you find yourself streaming a lot, consider boosting your ISP plan to the highest available. A minimum of 15-20 Mbps ⬆️ should be a good place to start, connect to an Ethernet cable whenever possible.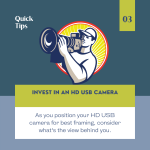 3️⃣ Invest in an HD USB Camera, at a minimum
Most laptop cameras are not positioned for the most attractive angle and neither are they  designated to be used a professional cameras. This HD camera here might just be what you're looking for. As you position your camera for best framing, look beyond you, consider what's the view behind and make it clean and uncluttered.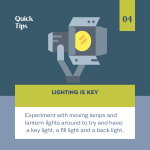 4️⃣ Lighting is Key
You might not have broadcast quality lighting in your closet, but everyone has several lamps around the house, paper lanterns are cheap and AMAZING as diffused lighting sources.
Experiment with moving lights around to try and have:
– a key light (main light source) at about a 45 degree angle,
– a fill light (opposite side from key light),
– a back light (separates you from the background).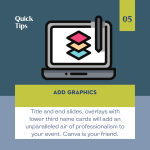 5️⃣ Add graphics
Simple title and end slides, overlays with lower third name cards will add an unparalleled air of professionalism to your streaming event. Canva is your friend. StreamYard is a great live-streaming platform to add graphics, overlays and branding to your live-streams and we use it for the majority of our live-streaming events.
Check out our post Best Practices on Going LIVE from an In-Home Studio
Bonus Tip:
? Keep that script tight. Cut to the chase. Have a purpose. Nobody's got time for rambling and fillers.
Bonus Bonus Tip:
A great streaming provider and production partner like us can take the stress away from creating a broadcast-quality stream, for your Virtual as well as your Hybrid events, even remotely, and can easy your worries by making the live streaming process smoother. Whether you'd like a turnkey, fully produced event, help with a "DIY" solution, or something in between, our dedicated team can help you deliver a high-quality, broadcast-grade experience. We are prepared to meet your virtual and hybrid event needs, we have solutions for every context and event.