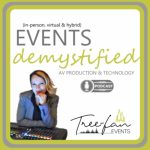 I come to you today to have a conversation about Best Practices for Sound, Video, Graphics and Lighting for Events because rarely would you plan an event these days that doesn't require the use of some form of AV and Lighting. I won't dive too deep into any of the above topics as I did during my last episode, but I will spend some extra time towards the end on Lighting and how used strategically, it influences how we think and feel, so stay tuned for some amazing insight and understanding on how we innately respond to lighting cues and how specific colours can create specific, immediate human responses!
---
For event and podcast updates, tips and tricks of the trades, find us on Social Media on these channels:
If you liked what you heard, please show us some love by subscribing to this podcast on iTunes, Google Podcasts or whichever platform you use to listen to. By leaving a great review and hitting the 5 stars, you make this Podcast visible to other listeners with the same interests as you.
Have a fantastic rest of your day! Until next time!